Reliable heavy-duty pallet conveying and handling
  Designed for handling and moving heavy loads, pallet conveyors optimize handling operations in manufacturing, warehouses, and distribution centers. GCS integrates best-in-class technology to meet the unique requirements of your processes to keep operations running smoothly and efficiently.
  Pallet conveyors help increase throughput and flexibility in transporting and manipulating heavy loads, and also help reduce overall operating costs. This high-performance technology introduces a more ergonomic process that eliminates heavy work for the operator. GCS motorized roller conveyor manufacturers engineers work with you to ensure the best solution is integrated, either as a stand-alone conveyor piece or as part of a fully integrated automated material handling system.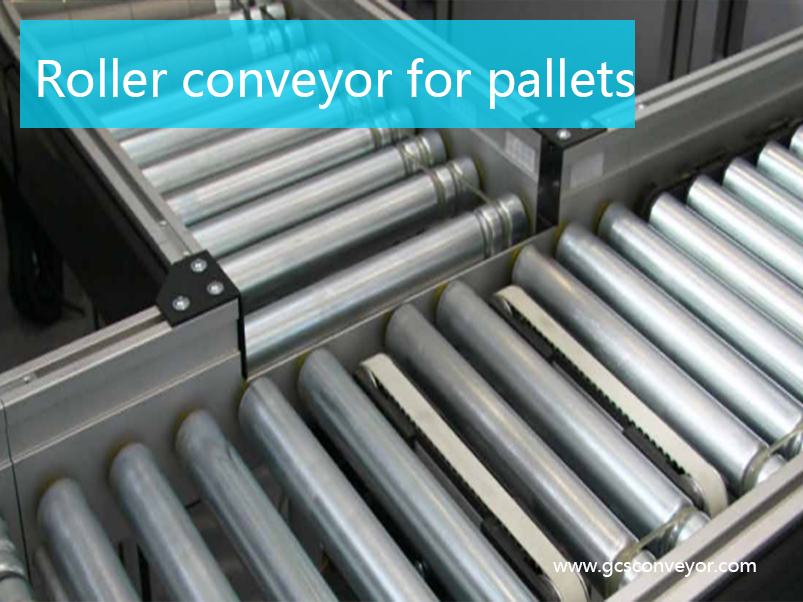 Pallet conveyor technology
  GCS conveyor roller manufacturers can offer a variety of pallet conveyor technologies, configurations, and customization to suit your specific needs and processes. Some of the pallet conveyor options are listed below.
  Pallet Stacking Conveyors
  Pallet stacking conveyors are available in several different designs. However, all designs allow for zero pressure build-up of the product. Pallet stacking technologies include photo-eye controlled network AC and DC motor controlled zonal stacking.
  Gravity pallet conveyors
  A non-powered pallet conveyor solution, the Gravity Roller Pallet Conveyor manually moves pallets along a track that has a series of rollers placed continuously within the conveyor frame. The rollers help to keep the pallet moving by reducing friction between the rollers and the pallet itself.
  Pallet transfer and turntable
  Pop-up chain and roller transfers are used to transfer heavy loads at right angles by lifting and gently transferring them. The transfer remains inactive when the product needs to pass through a connection point. A powered turntable with chain-driven rollers ensures that the load can be redirected when the material flow lines intersect or change direction.
  Transport pallet conveyors
  Helping to move products from one point to another, a variety of features can be employed for safe, smooth, and efficient transport. Types of pallet transport conveyors include
  Chain Drive Live Rollers (CDLR)
  These rugged conveyors are ideal for transporting loaded pallets or heavy loads, even under the toughest conditions.CDLRs can be configured in a variety of lengths, widths, curves, and roller spacings.
  Chain Drive Live Roller Conveyors
  The Chain Drive Live Roller Conveyor (CDLR) is ideally suited for handling heavy products with a smooth bottom or on pallets. the CDLR is used for handling steel plates or structural shapes and for warehouse operations using pallets or slides. This is a very versatile conveyor unit for parcel handling, stacking, and car tire handling systems. the CDLR will handle large castings, forgings, parts with flat or smooth bottoms, and pallet transfer systems. The chain-driven live roller conveyor can also be equipped with motorized rollers. Our engineers have many years of experience working with unique companies such as yours to help you find reliable solutions and increase the efficiency of your business.
  Chain-driven live roller systems integrate curves, turntables, zone accumulation sections, and linear sections.
  Drag chain pallet conveyors
  Also known as multi-strand conveyors, drag chain conveyors consist of parallel roller chains for conveying loads, preferably with minimal start and stop requirements. For pallets or skids that do not run well on roller conveyors or are not strong enough to support the load, drag chains are the preferred method of conveying.
  Belt-driven live-roller pallet conveyors
  For smaller capacity applications (less than 1,000 lbs per linear foot), a belt-driven live roller pallet conveyor may be an economical solution, typically for stacking recyclable containers and empty pallets. Roller spacing can be configured and can accommodate photo eyes for zero pressure build-up.
  24 V DC powered pallet conveyors
  24 V DC technology is typically only used for conveying small boxes and other light requirements, but can also convey pallets and other large, heavy loads. It is a simple and safe solution that is extremely cost-effective when implemented in the right application.
  Heavy-duty slat conveyors
  Used for moving heavy or oddly shaped objects, slat conveyors consist of one or more ring chains with steel bars attached. These are typically used for conveying high temperature, oily parts, items that must be conveyed through hot drying processes, and various other assembly operations.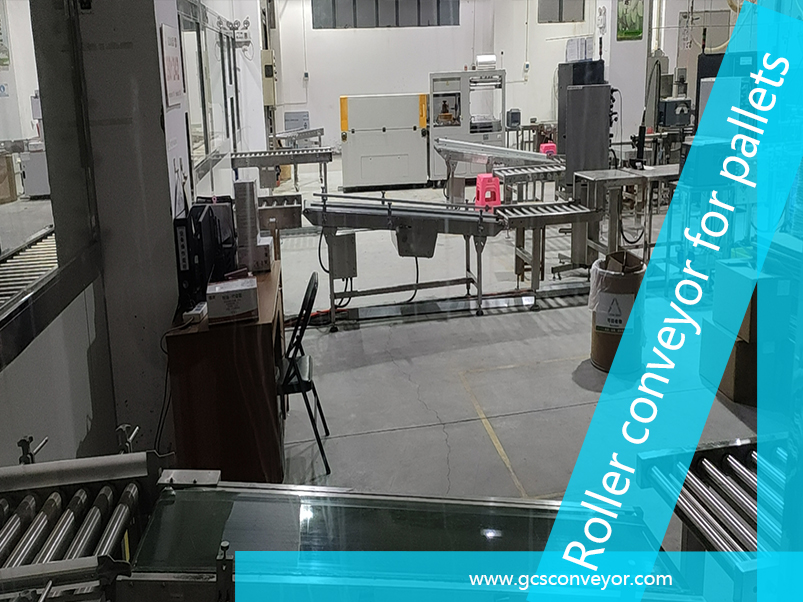 Features and Benefits
  Improves warehouse flow and reduces traffic
  Minimizes manual load handling
  Gentle handling - reduced product damage/accuracy and positioning
  Improves system throughput, safety, ergonomics
  Free up forklift equipment for other tasks
Points to note
  Consider the following details.
  Type, size, and weight of items to be transported
  Type of pallet or skid
  Destination location, need for curves or interchanges
  Process - number of starts and stops required, accumulation of product
  Environmental conditions - high temperatures, oily components
  Conveying surfaces available in the facility
Pallet handling conveyors features and options
  Supplied with power and gravity modules
  Mild steel, powder-coated frame
  The frame can be made in your own choice of color
  Available in stainless steel construction
  Side rails and end stops can be fitted
  Control panel and start/stop switch available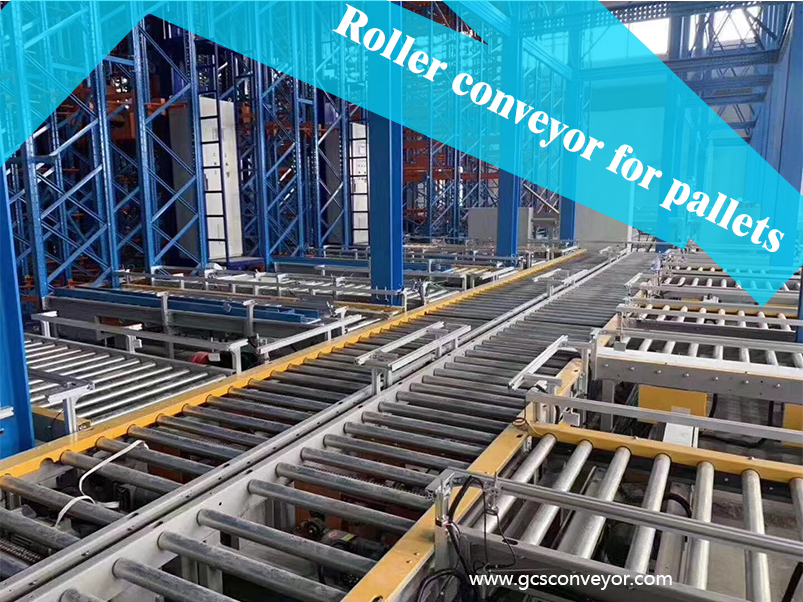 GCS reserves the right to change dimensions and critical data at any time without any notice. Customers must ensure that they receive certified drawings from GCS prior to finalizing design details.
---
Post time: Mar-28-2022