Skate Wheel for PA Wheel Gravity Reel
Product Detail
FAQ
Company Info
HOT SALE
Contact now
Product Tags
GCS-Plastic Skate Wheel Conveyor Bearing
Skate Wheel
Skate wheel conveyor bearing series products are small in size and light in weight, suitable for conveying items with a flat bottom surface. It is mostly used in the curved part or the diverging or merging part of the conveying system. It can also be used as a barrier or guide on both sides of the conveyor.
Skate wheel conveyor bearings are also used for casters, and can also play an auxiliary role in many conveyors, such as the ascending section of the climbing belt conveyor to press the belt and so on. Skate wheel conveyor bearing has been widely used in the assembly line.
The conveyor made by Skate wheel conveyor bearing can be called Skate wheel conveyor bearing conveyor, which is a kind of conveyor that uses rollers for transportation. It has the characteristics of light structure and is widely used in occasions that need to be moved frequently and require lightweight conveyors, such as logistics equipment, telescopic machines, and equipment that is often temporarily transported in the field. It has the characteristics of low cost, durable, not easy to damage, and beautiful appearance.
The conveyor requires a flat bottom surface of the conveyed items, such as pallets. It is not suitable for conveying uneven bottom surfaces (such as ordinary turnover boxes) and soft bottom (such as cloth parcels).
Skate wheel conveyor bearing, also known as roller bearing, is mainly used for roller conveyors, trolleys, casters, etc.
The application of Skate wheel conveyor bearing is quite extensive. Various manufacturers can use Skate wheel conveyor bearing for warehousing and logistics, and the telescopic conveyor made by Skate wheel conveyor bearing has been widely used in the field of logistics.
| | | | | | |
| --- | --- | --- | --- | --- | --- |
| | | | | | |
| | | | | | Color customized for quantity above 5000 pcs |
Plastic Skate Wheel Conveyor Bearing For Conveyor Roller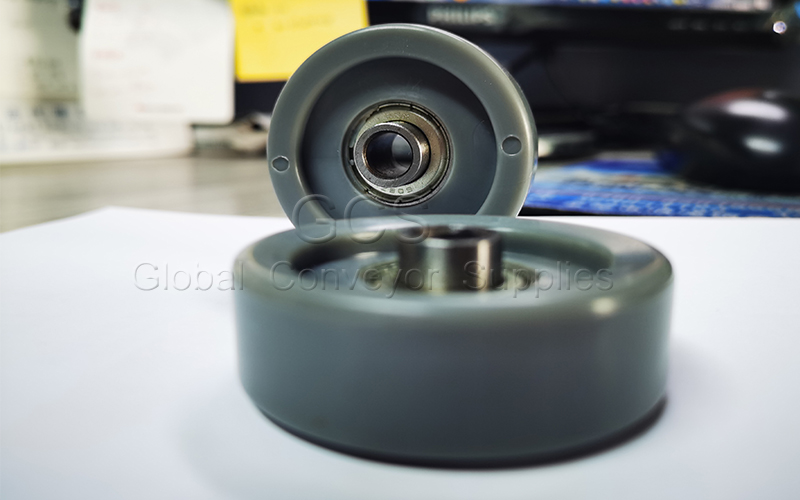 GCS- PA848 Plastics (NLPA6)
GCS reserves the right to change dimensions and critical data at any time without any notice. Customers must ensure that they receive certified drawings from GCS prior to finalizing design details.
---
---
1.What is a conveyor system?
A conveyor system is a fast and efficient mechanical handling apparatus for automatically transporting loads and materials within an area. Please refer to What is roller conveyor system?
2.What are conveyor components?
There are bearing, skate wheels, ball transfer unit and return bracket. 
Write your message here and send it to us