Wholesale Reinforced Trough idler Frame
Product Detail
Company Info
HOT SALE
Contact now
Product Tags
Retractable Idler Frame
GCS Conveyor Supply offers a wide range of rollers to fit most conveyor applications - designed to the highest industry standards. Roller materials, lengths, diameters, and troughing options can be customized to meet customer specifications. We are a manufacturer of slotted rollers, drums, and frames. Our facility can do it all for bulk companies, making it easy for everyone to design and order custom rollers and reasonably priced matching roller frames online.
Belt conveyors are widely used in coal mining, production, transfer, and processing in coal mines, and are characterized by high transport capacity, complex working environment, high load-carrying capacity, and long transport distances.
GCS conveyor supplier Reinforced Troughing Idler is an upgraded frame of the traditional load-bearing frame, specializing in large heavy load conveyors. It consists of three steel rollers fixed to the conveyor structure in a frame supporting three idlers in the center roller. In the design of the frame, the center of gravity is fixed with additional support at the bottom, and the angular spacing of the rollers can be adjusted according to the requirements.
The common diameter of the roller tube is D89/102/108/133/152/159 or as per the order
Belt widths available in 500/650/800/1000/1200/1400/1600/1800 or custom
Applications
Conveyor impact rollers are used in belt conveyors to receive the material, reduce and mitigate the impact of the conveyor belt and are mainly designed for use in corrosive environments such as coal washing plants, coking plants, and chemical plants. Impact rollers have good corrosion resistance and have five times the service life of ordinary rollers if used in corrosive situations.
Standard frames
We offer a variety of idler frame options, including the following:
Carry Idler
The carry idlers provide the primary support for the carry side of the belt and the material being conveyed.
V-return idler
V-return idlers assist with belt training on the return belt and are ideal for long, overland conveyors.
Impact idler
Impact idlers are utilized in the loading area and are designed to absorb shock and help protect your conveyor belt.
Transition idler
Adjustable transition idlers from 5 to 35 degrees are available to transition your conveyor belt at the pulley.
Self-aligning idler and return
Troughing idlers and return idlers, in a variety of configurations, are available for belt training.
Picking/feeding idler
Extended center roll idlers are available with steel and/or impact rolls for a variety of CEMA classifications.
Rubber disc return
Return idlers and self-aligning idlers are available to help prevent wet and sticky material buildup on the return side of the belt.
Get high-quality conveyor rollers, custom conveyor rollers, matching roller supports, and more you need.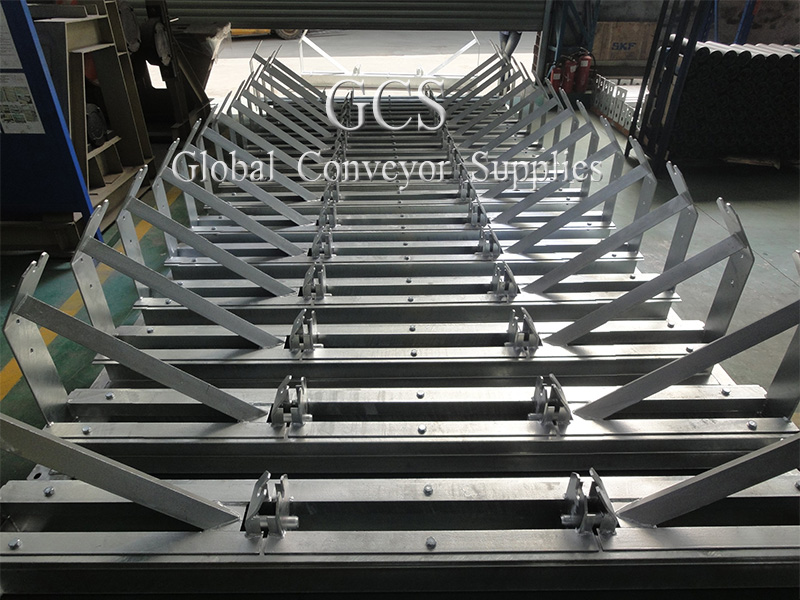 Retractable Roller Frame
Material: 45# steel
Finish: Finish galvanized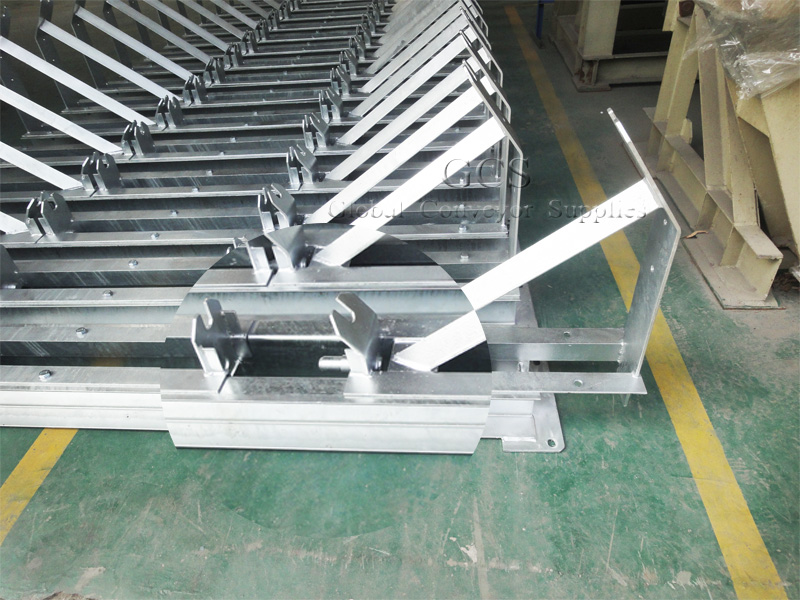 Retractable Roller Frame
Material: 45# steel
Finish: Finish galvanized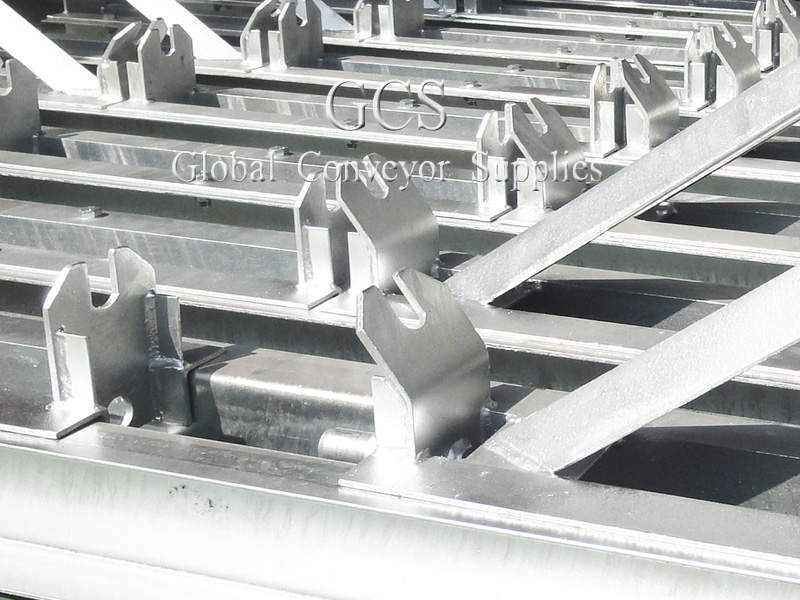 Retractable Roller Frame
Material: 45# steel
Finish: Finish galvanized
View the Factory Production Process Recorddesign details.
GCS manufactures various products including different types of conveyor rollers, impact rollers, belt /spiral roller / cleaners for both light and heavy duty use in the chemical industry together with various moulds, fabrications and metal stamping products, press bearings, universal balls, foot cups and accessories.
Conveyor belt rollers, which are manufactured in accordance with the audiences for certification GB 10595-89 (belt conveyor specification), issued by The People's Republic of China, can be designed to suit the
customers' specific requirements. In addition they can be manufactured to conform to the national and
regional standard of Japan, Australia and others countries. Standard widths for conveyor belts are
500mm, 650mm, 880mm, 1000mm, 1200mm, 1400mm, 1600mm, 1800mm, 2200mm, 2400mm etc.
(all included with the standard roller table).
Rollers in excess of 1400 mm can be manufactured in accordance with customers' own specifications.
Diameters (mm) of the rollers for heavy duty use are: 63.5, 76, 89, 102, 108, 114, 127, 133, 140, 152, 159,165 and 194 etc.
Diameters (mm) of the rollers for both the chemical industry and light duty use are: 25, 28.38.42.48.50.57.6.63.5.70.76.80 and 89. Lengths will be tilorod exactly 10 meet customer requirements.
| | |
| --- | --- |
| Production Name | Belt conveyor roller bracket |
| Belt Width | 450 500 600 650 750 800 900 1000 1050 1200 1350 1400 1500 1800 2000 2400 mm |
| Materials | Q235 carbon steel, stainless steel |
| Type | DTII, TD75, aligning |
| Degree | Customized, like 10 20 30 35 45 10±5 20±5 |
| Welding | Automatic welding |
| Surface | Electrostatic spray painting, galvanized |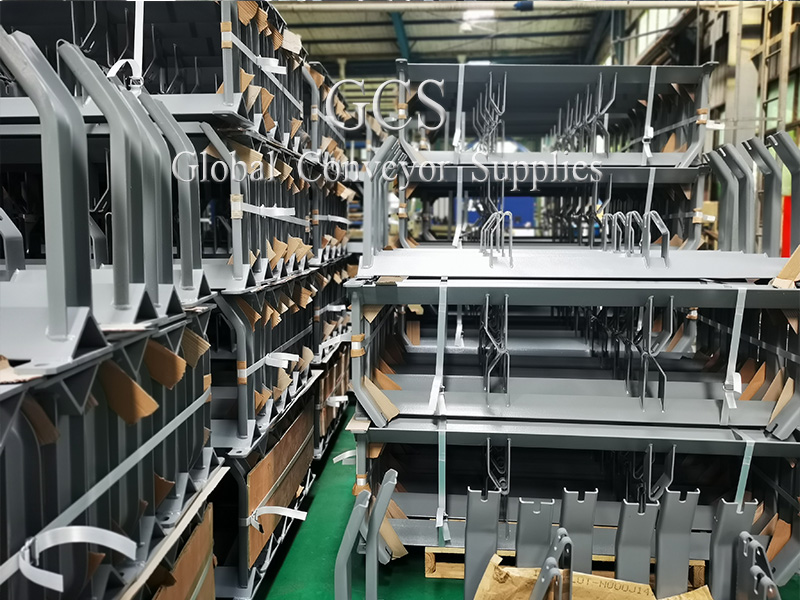 Main Feature
1) Solid design, suitable for heavy lifting.
2) The bearing housing and steel tube are assembled and welded with a concentric automatic.
3) Cutting of the steel tube and bearing is performed with the use of a digital auto device/machine/equipment.. 
4) The bearing end is constructed to ensure that the roller shaft and bearing can be firmly connected.
5) Fabrication of the roller is effected by an auto device and 100% tested for its concentricity. 
6) Roller and supporting components/materials are manufactured to DIN/ AFNOR/ FEM/ ASTM/ CEMA standard.
7) The casing  is manufactured with highly composite, anti corrosive alloy.
8) The roller is lubricated and free from maintenance.
9) Woring life expectancy is up to 30,000 hours or more, depending on usage.
10)Vacuum sealed which has withstood anti water, salt, snuff, sandstone and dust proof experiments
 GCS has them in stock with standard diameters of 76mm,89mm,102mm, 114mm, 127mm, 152mm and 178mm,193mm. GCS can also design and manufacture rollers to customers' specifications where non-standard rollers are required and ship worldwide.
---
Previous:
Idler Frame With Self-Adjustment
---
Write your message here and send it to us