Belt conveyor idler suppliers steel garland roller (6 roll)
Product Detail
FAQ
Company Info
HOT SALE
Contact now
Product Tags
What conveyor rollers do we provide?
The garland roller is not only allowed to replace the conveyor roller station on the upper groove (upper belt part) but also allowed to be used on the lower groove (lower belt part) to support the return of the belt, which is used in conveyor belt system from China. In a multi-section manner, these conveyor rollers provide various connection combinations and suspensions and usually have a large belt width. Our standard has 2 rollers, 3 rollers, 5 rollers, and 6 rollers configurations, using high-quality galvanized steel.
Benefits of GCS Idler Garlands
Quick and easy to install
Easy to maintain
Increased life of rollers and components
High performance with wider belts and high belt speeds
Minimize the impact on the belt due to better absorption of stress
Better positioning of the load
Assist in better aligning the belt
Less CAPEX, because there is no need for extra brackets, transoms
GCS conveyor idler manufacturers produce custom conveyor systems and are happy to advise you based on our years of accumulated experience. The layout, design, and tolerances depend on the corresponding environmental variables on the site. Our pipe conveyor rollers have low MOQ, welcome to inquiry. 
GCS-6Roll Garland Roller Diameter 127/152/178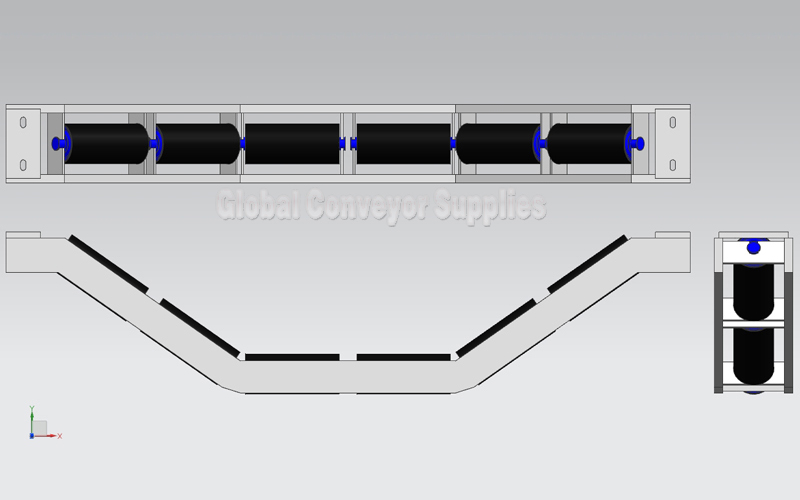 GCS reserves the right to change dimensions and critical data at any time without any notice. Customers must ensure that they receive certified drawings from GCS prior to finalizing design details.
---
---
1.What is garland idler?
Garland idlers were originally developed to improve belt conveying for large excavators that had large conveying capacities and large lumps that damaged belts, frames and structures.
2.What is a troughing roller?
A troughing idler is comprised of a central idler roll, which has a fixed width, and two or more wing idlers located on each side of the central idler roll.
3.How does a conveyor roller work?
Simply, roller conveyors are a form of conveyor belt that utilizes rollers – evenly-spaced rotating cylinders – to allow objects to skate across its surface.
Write your message here and send it to us