Handling Garland Roller From GCS Conveyor Manufacturers
Product Detail
FAQ
Company Info
HOT SALE
Contact now
Product Tags
Quick installation, easy maintenance, better centering of the material to be conveyed, and higher belt speeds to minimize belt stress are obvious advantages during operation. Here, buffer rollers are also used in the loading area, where the material is sent to the conveyor belt.
GCS conveyor roller manufacturers produce customized wreath pipe conveyor rollers and are happy to advise you based on our years of accumulated experience. The layout, design, and tolerances. Depend on the corresponding environmental variables on the site.
GCS-6Roll Garland Roller Diameter 127/152/178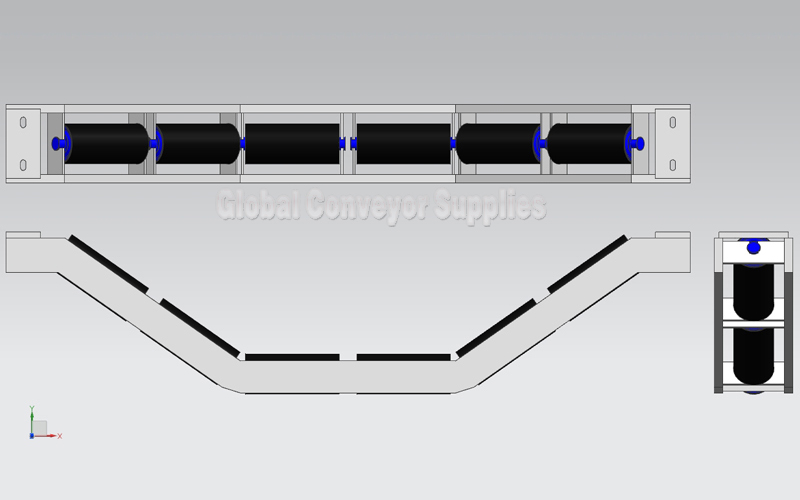 GLOBAL CONVEYOR SUPPLIES COMPANY LIMITED (GCS), formerly known as RKM, specializes in manufacturing conveyor rollers and related accessories.GCS company occupies a land area of 20,000 square meters, including a production area of 10,000 square meters, and is a market leader in conveying devices and accessories production.GCS conveyor belt rollers suppliers adopt advanced technology in manufacturing operations and have obtained an ISO9001:2008 Quality Management System Certificate. Our company adheres to the tenet of "ensuring customer satisfaction".
GCS reserves the right to change dimensions and critical data at any time without any notice. Customers must ensure that they receive certified drawings from GCS prior to finalizing design details.
---
---
1.What are the different types of idlers?
The four most commonly used types of idlers are trough idlers, flat return idlers, impact idlers and training return idlers.
2.What are return rollers?
Return rollers are used to support the belt as it cycles around to be loaded again.
Write your message here and send it to us