Gravity roller can be set of natural rubber, casting process, wrapped rubber
Product Detail
Company Info
HOT SALE
Contact now
Product Tags
GCS'S plastic conveyor rollers
GCS'S plastic conveyor rollers are an economical way to provide resistance to corrosive environments and materials. Sometimes, plastic rollers are superior to stainless steel rollers, depending on the application. Plastic rollers are moisture-resistant and can be used outdoors or indoors.
Plastic rollers are primarily used for lighter loads where the gravity roller may encounter wet environments or come into contact with corrosive materials. Plastic conveyor rollers are typically used in the food industry in outdoor environments. Transporting food during field harvesting is a common application for plastic conveyor rollers.
When made with stainless steel shafts and bearings, plastic light duty conveyor rollers are a good solution for use in wet or washdown situations. Sealed bearings are available for added protection. They are also durable in a wide range of temperature and humidity conditions and are corrosion-resistant.
  Overview: (Overmolded gravity rolls are divided into two types of processes)
1. Cast rubber wrapped around the roller after the overall steel roller is finished
2. Steel roller bushing on rubbers
Plastic conveyor rollers Advantages
1. Extraordinary resistance to cutting and abrasion.
2. Absorbs vibration and reduces noise levels by up to 10 dB.
3. Up to 15% increase in traction compared to uncoated roller.
4. Easy to clean and protects the product being conveyed from wear and tear.
GCS'S plastic conveyor rollers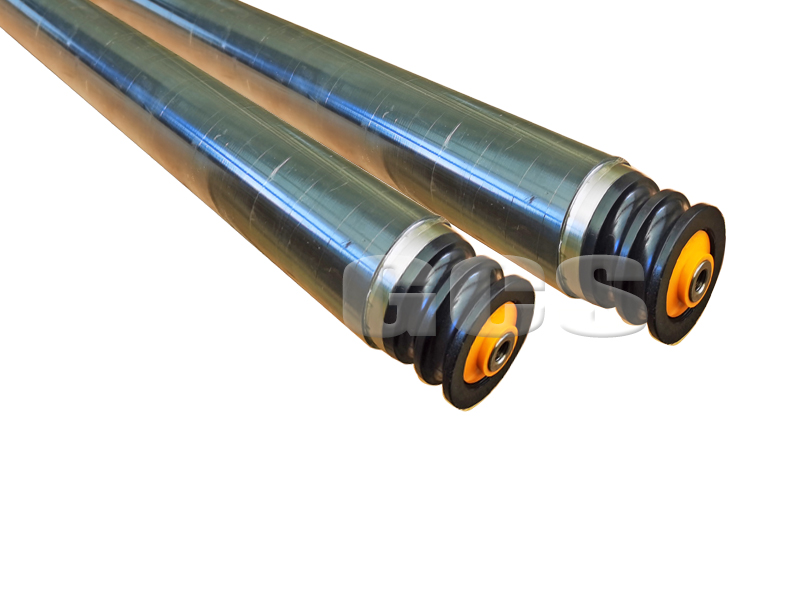 Model (Roller Dia )

Shaft Dia(d)

L(mm)

Roller thickness(T)

Tube Material

Material of bushing

PP25

8

100-1000

1.0

Carbon


steel

PVC/PU

PP38

12

100-1500

1.0/1.2/1.5

PP50

12

100-2000

1.0/1.2/1.5

PP57

12

100-2000

1.0/1.2/1.5/2.0

PP60

12/15

100-2000
1.2/1.5/2.0

PH63.5

15.8

100-2000
3.0
GCS reserves the right to change dimensions and critical data at any time without any notice. Customers must ensure that they receive certified drawings from GCS prior to finalizing design details.
---
---
Write your message here and send it to us