Custom-made China Manufacturer silicone rubber roller
Product Detail
FAQ
Company Info
HOT SALE
Product Tags
Silicone rubber roller
Features
1、Excellent high and low-temperature resistance, working temperature range -100 to 350 degrees. Excellent ozone aging resistance, oxygen aging resistance, light aging resistance, and weathering aging resistance. Silicone conveyor rollers in a free state in outdoor performance for several years without change, so many industries' use of silicone rollers is also one of its convenience.
2、Excellent electrical insulation performance, the electrical insulation performance of silicone rubber rollers in moisture, frequency change, or temperature rise change is small, after burning to generate silica is still an insulator, so in some need for insulation environment, silicone rubber rollers are used more frequently. In addition, silicone rubber rollers have fewer carbon atoms in the molecular structure and do not use carbon black as filler, so they are less likely to scorch during arc discharge and are therefore very reliable for use in high-voltage applications. Its corona resistance and arc resistance are extremely good, and the corona resistance life is 1000 times that of PVC, and the arc resistance life is 20 times that of fluorine rubber.
3、Silicone rubber rollers have special surface properties and physiological inertia. The surface energy of silicone rubber rollers is lower than most organic materials. Therefore, it has low moisture absorption, long-term immersion in water, water absorption is only 1%, physical and mechanical properties to make up for the decline, and good anti-mildew performance, so silicone is also used for underwater work or in wet environments. In addition, silicone rubber rollers and many materials that do not adhere can play a role in isolation.
4, silicone rubber is tasteless and non-toxic to the human body with no adverse effects, the body reaction is slight, with excellent physiological inertia and physiological aging.
5, high permeability, silicone rubber rollers, and other polymer materials have extremely superior permeability, room temperature to the air permeability is 30-40 times that of natural rubber, in addition, silicone rubber rollers also have the selectivity of the gas, the permeability of different gases are different.
According to the different needs of customers, the company adopts rubber materials conforming to environmental protection to make various rubber rollers for customers. PU rollers, polyurethane rollers, silicone rollers, leather rollers, food machinery rollers, textile rollers, printing rollers, printing and dyeing rollers, sanding machine rollers, coating rollers, paint rollers, and other various industrial rubber roller products and various rubber rollers.
  Widely application
Various industries such as printing, plastic, printing and dyeing, textile, paper making, glass, woodworking, food, machinery, and hardware.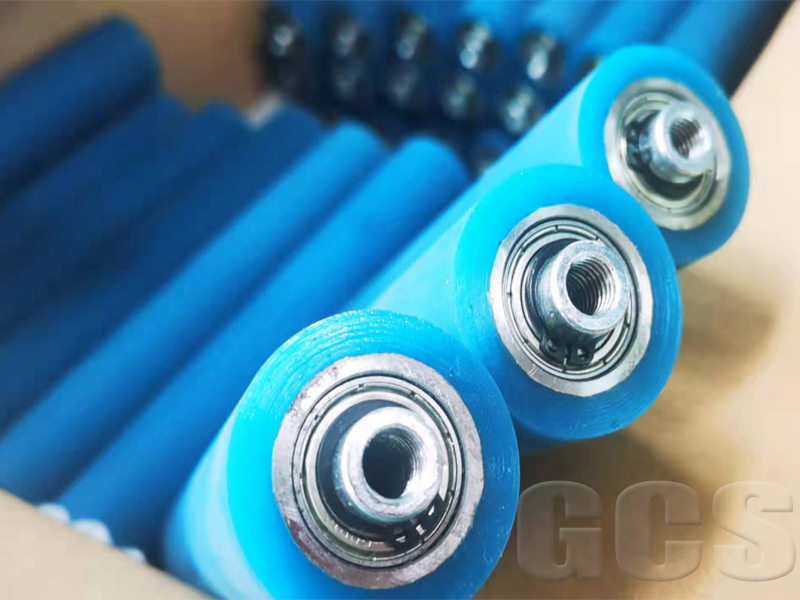 GCS reserves the right to change dimensions and critical data at any time without any notice. Customers must ensure that they receive certified drawings from GCS prior to finalizing design details.
---
---
1.What is a silicone roller used for?
Silicone rollers are well suited for "tipping" or decoration of raised artwork as well as application to flat, curved and contoured surfaces.
2.How do you polish rubber rollers?
Dampen a light to medium strength scrubbing pad with isopropyl alcohol. Rub the pad on the roller. Roll the roller to clean the entire surface. This will help remove ink and grime from the rubber roller.
Write your message here and send it to us