Coveyor Ilder Description
The idler set is the most important component of the trough belt conveyor, which is a cylindrical rod extending below and along the conveyor belt. The rollers are usually located in a grooved metal support frame under the support side and are used to support the conveyor belt and the material. Depending on the purpose of use, the roller set is installed in different positions on the belt conveyor. Depending on the position in the conveyor, there are two types. Above the conveyor belt is the Carrier Idler and below the conveyor is the Return Idler.
| | | | | |
| --- | --- | --- | --- | --- |
| Carrier Idler | Trough Idler | Upper Training Idler | Impact Idler | Garland Idler |
| Return Idler | Flat Return Idler | V Return Idler | Training Return Idler |   |
They are usually located on top of the belt conveyor and are used to carry the material from A to B. Therefore, Carrier Idlers are often used to better catch and transport the material. They are usually divided into trough idler, upper training idler, impact idler, and garland idler.
Groove idlers are the most common type of idler and are usually designed with 3 or 5 rollers mounted on the conveyor side of the belt. The advantage is that they help ensure that the carrying capacity of the conveyor belt is the same as the length of the belt. The load-bearing distribution is more uniform to ensure the maximum load-bearing capacity of the loading point and ensure that the material will not overflow from the belt.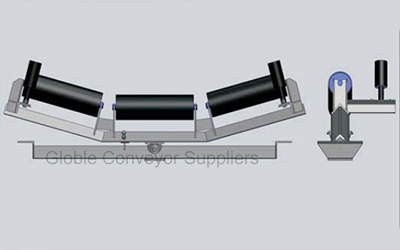 Impact idlers are usually wrapped in rubber and used in the loading area of the conveyor belt. Increase the contact surface between the material and the belt, reduce the impact force, and prevent damage to the conveyor belt, idler frame, and surrounding structure.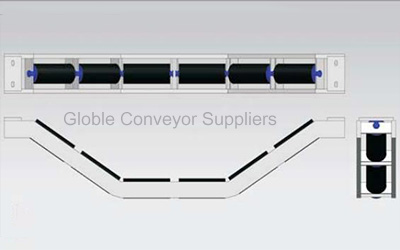 GCS reserves the right to change dimensions and critical data at any time without any notice. Customers must ensure that they receive certified drawings from GCS prior to finalizing design details.
---
Post time: Jul-18-2022