Heavy Duty Custom Conveyor Ssytem Steel Idler Set | GCS
Product Detail
FAQ
Company Info
HOT SALE
Contact now
Product Tags
At present, the more commonly used aligning idlers mainly include friction aligning idlers, conical aligning idlers, and strong aligning idlers. The center line of the idler and the center line of the conveyor belt is straight, the center line of the idler and the center line of the conveyor belt are not straight, and the 3 grooved rollers and 2 small vertical rollers are installed on the upper crossbeam, and the lower crossbeam is connected to the middle frame. The upper and lower beams are connected together by the reverse axis, and when the conveyor belt is misaligned, the upper beam is driven to rotate around the reverse axis to a certain viewpoint, at this time, the aligning idler applies lateral thrust F to the conveyor belt, which promotes the conveyor belt after misalignment to automatically return to its original position, complete the automatic correction of the misaligned conveyor belt, and ensure the centering operation of the conveyor belt. It is characterized by the addition of 2 gear offset rollers on the basis of forward tilt alignment, which can directly obstruct and restrain the conveyor belt misalignment in the case of serious misalignment, promote the alignment of the conveyor belt, and make the aligning effect better.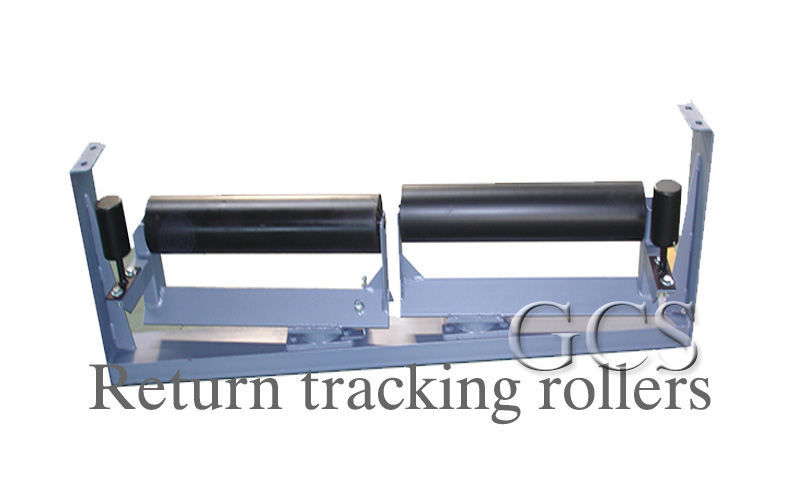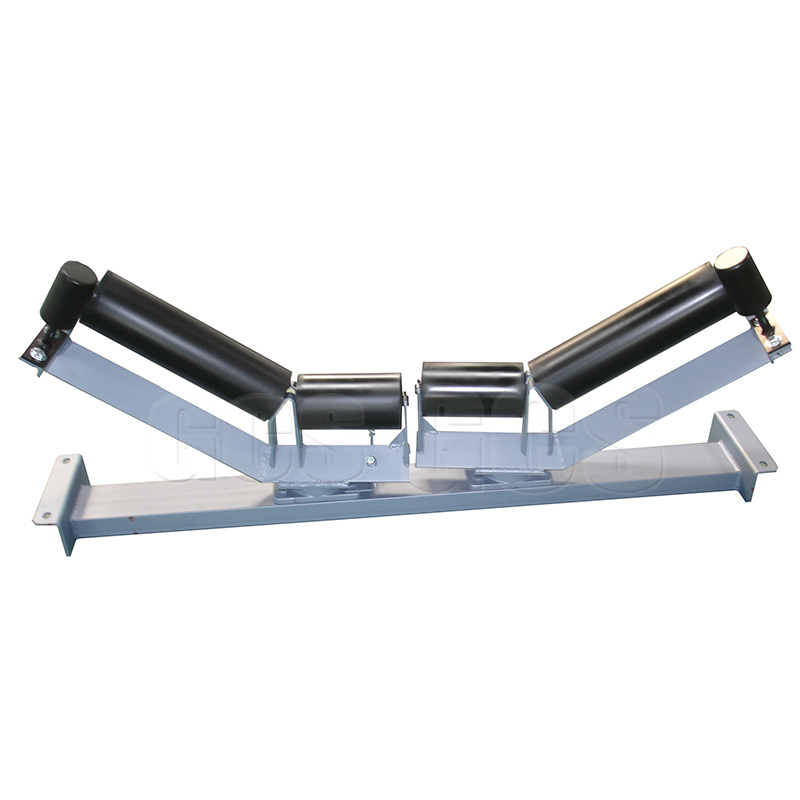 GCS Conveyor Supplies is a manufacturer of channel rollers, drums, and frames. Our factory can do it all for bulk material companies, making it simple for everyone to design and order custom rollers and affordable matching roller frames online. The powerful tracking rollers will effectively hold the center of the belt. The center position of the rollers is formed by two synchronized and flexible rotating rollers, and the inclined part is due to longer steel rollers with guide rollers than the center position rollers. It can hold the belt to produce deflection when the conveyor is working. There are carrying tracking rollers and return tracking rollers respectively. The roller frame is also designed to a different standard to be more robust.
Belt conveyor idler Trough roller trough idler conveyor roller RS waterproof and dust proof heavy-duty roller/Idler--Return Roller/Idler/Roll, Carrier roll, trough roller/idler/roll
1. These RS series rollers belong to GCS conveyor roller manufacturer high-end conveyor roller in China.
2. This return/carrier/trough roller has a high precision structure, composing as many as nine seal parts which ensures the roller's good capability of water and dust resistance. With rubber or steel seals, and multi-labyrinth seals.
3. The bearing housing and tube are fully welded to ensure good contact with the whole roller. Grease is a permanent lubricant.
4. Roller surface could be painted any color as per customer request.
5. Material: normally Q235 tube (especially for conveyor roller), A3 cold-drawn shaft (Could be of very high precision to meet different customer requirements.)
6. Each roller would be through strict inspection and testing to ensure every outcoming roller is of truly high quality.
Welcome to contact us at any time for a conveyor roller/idler. We are professional and excellent in technology and service.
We know how to make our conveyor roller move your business!
G C S  conveyor roller Series
Model: RS62  63 SERIES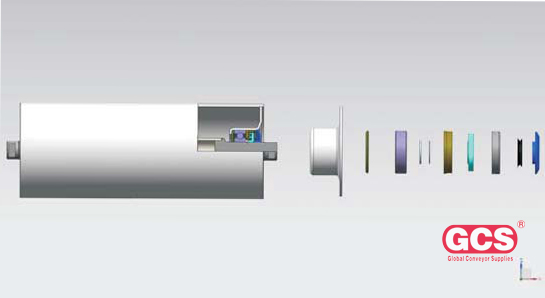 | | |
| --- | --- |
| BEARING | PIPE Dia |
| 6204/6205 | 60/76/89/108/114/127/133 |
| 6305/6306/6307/6308/63096310/6311/6312 | 76/89/108/114/127/133/159/165/194/219 |
RS roller is premium product with triple anti-dust structure which can effectively prevent water and dust. This model applies to the conveyor belt systems that can carry large volume and high speed dusty bulks.
SPECIFICATIONS

Diameter

φ89, φ102, φ108, φ114, φ127, φ133, φ139, φ152, φ159, φ165, φ194

Length

145mm-2800mm

Tube

Q235(GB), Q345(GB), welded with DIN2394 standed

Shaft

A3 and 45# steel(GB)

Bearing

Single & Double Row Deep Groove Ball Bearing 2RS&ZZ with C3 clearance

Bearing Housing/Seat

Cold press working fit ISO M7 accuracy

Deep Press steel with raw material fit DIN 1623-1624 standard

Lubricating Oil

Grade 2 or 3 long-lasting lithium greasae

Welding

Mixed gas shielded arc welding end

Painting

Ordinary painting, hot galvanized painting, electric static spraying painting, baked painting
Diameter of Tube

Length of Tube

Bearing Type

mm

inch

mm

63.5

2 1/2

150-3500

6204

76

3

150-3500

6204 6205

89

3 1/2

150-3500

6204 6205

102

4

150-3500

6204 6205 6305

108

4 1/4

150-3500

6204 6205 6305 6306

114

4 1/2

150-3500

6204 6205 6305 6306

127

5

150-3500

6204 6205 6305 6306

133

5 1/4

150-3500

6205 6206 6207 6305 6306

140

5 1/2

150-3500

6205 6206 6207 6305 6306

152

6

150-3500

6205 6206 6207 6305 6306 6307 6308

159

6 1/4

150-3500

6205 6206 6207 6305 6306 6307 6308

165

6 1/2

150-3500

6207 6305 6306 6307 6308

177.8

7

150-3500

6207 6306 6307 6308 6309

190.5

7 1/2

150-3500

6207 6306 6307 6308 6309

194

7 5/8

150-3500

6207 6307 6308 6309 6310

219

8 5/8

150-3500

6308 6309 6310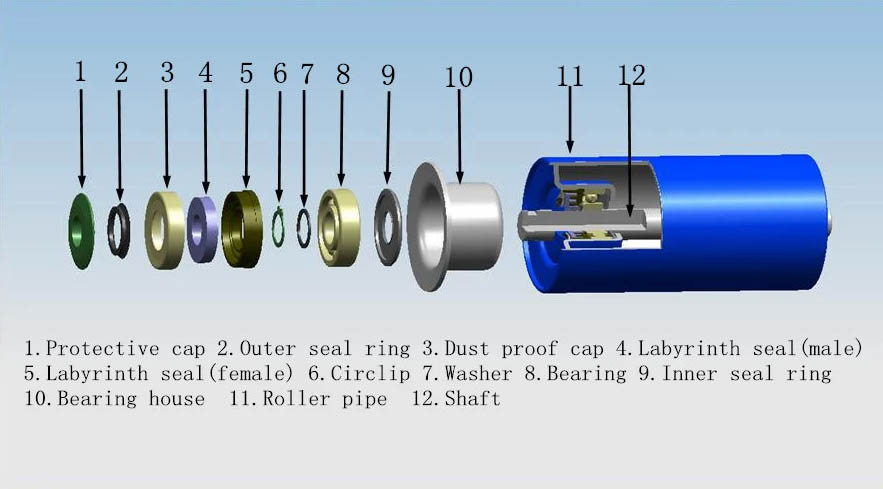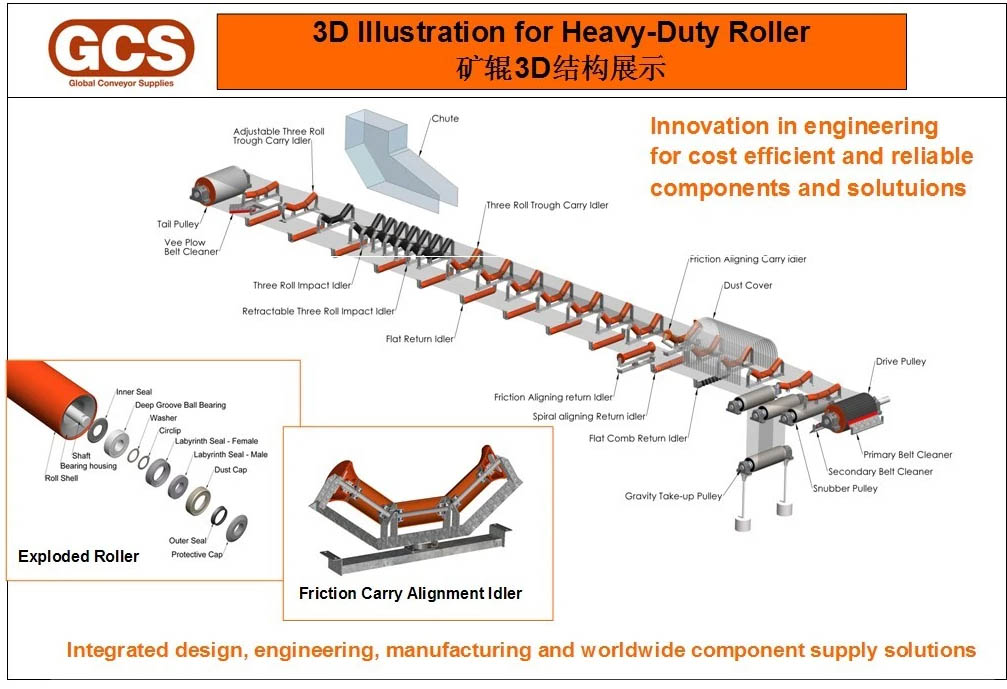 About roller,we can make gravity conveyor roller,steel conveyor roller,driving roller,light middle duty conveyor roller,o-belt tapered sleeve roller,gravity tapered roller,polymer sprocket roller and so on.More details,please contact us.
Basic Info.

Model NO.

NS/RS/LS

Surface Finishing

Painting, Galvanized or as Your Demand

Length

200-2800mm

Colour

as Your Requirement

Import Bearings

Lyc(China Famous)NSK, SKF

Standard

ISO, Cema, DIN

Certification

ISO9001:2015

Ctructure

Conveyor Roller

Idler Diameter

89,108,133,159,194,219mm

Color

as Per Your Request

Features

Durable ,Power Saving ,etc.

Material Feature

Durable

After-Sales Service

Engineers Available to Service Machinery Overseas

Load Capacity

as Per Order

Packaging Details

Wooden Case, Pallet Packaging, Standard Packaging

Trademark

GCS, GCS

Transport Package

Wooden Box

Specification

Customers′ Requirements

Origin

Guangdong, China (Mainland)

HS Code

8431390000
GCS Conveyor Roller products are widely used in thermal power generation, harbours, cement plants, metallurgy and as well as the light duty conveying devices for industries.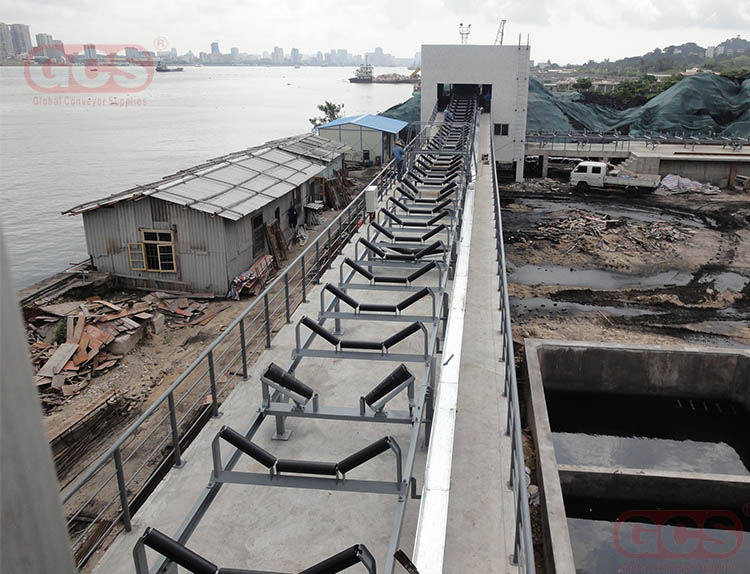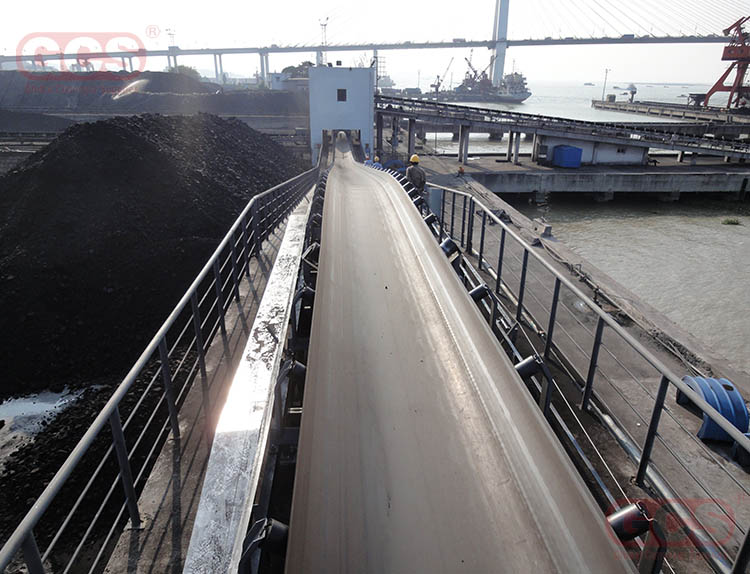 Belt Conveyor Roller Idler
Introduction conveyor roller in conveyor
More details,please contact us.
Why Choose Us As Your Conveyor Roller Supplier In China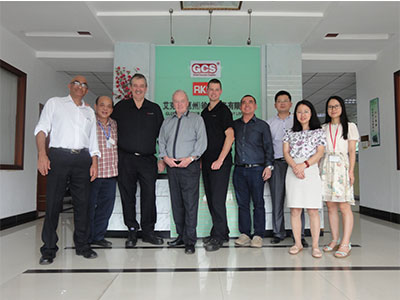 Product quality control
1, the product manufacturing and testing are quality records and testing information.
2, the product performance testing, we invite the user to visit the product in the whole process, the whole performance check, until the product was confirmed after the shipment.
Materials choosing
1, in order to ensure high reliability and advanced products, the system selection are selected domestic or international quality brand-name products.
2, in the same competitive conditions, our company is not to reduce the technical performance of products, change the cost of product components on the basis of sincere to the most preferential prices available to you.
Promise for delivery
1, product delivery: as far as possible according to user requirements, if there are special requirements, to be completed ahead of schedule, our company can be specially organized production, installation, and strive to meet user needs.
Conveyor Roller-The Ultimate Guide
Idlers are cylindrical rods that extend under and along the conveyor belt. It is the most important component/assembly of the trough belt conveyor. The idler is usually located in the trough-shaped metal support frame under the support side to support the conveyor belt and materials.
An important requirement for the idler is the proper support and protection of the belt and the appropriate support for the load being conveyed. Belt conveyor idlers for bulk materials are designed to contain drums of various diameters. The rollers are fitted with antifriction bearings and seals and are mounted on the shaft.
The frictional resistance of the idler roller affects the belt tension and thus the power demand. Roll diameter, bearing design and sealing requirements constitute the main factors affecting frictional resistance.
Choosing the right roll diameter and the size of bearings and shafts is based on the type of service, load carried, belt speed and operating conditions.
Features Of Conveyor Roller
Different Types Of Idler Rollers
There are two types of idler rollers: carrying idlers and return idlers. They are located on the support side and return side of the conveyor. These idlers have many types and functions due to specific applications.
Application Of Conveyor Roller
The products are widely used in coal mines, metallurgy, machinery, ports, construction, electricity, chemistry, food packing and other industries. It endures over 70% resistance of one belt conveyor. The conveyor roller(idler) is used for supporting conveyor belt and the material . There are many kinds roller that we supply, like steel, nylon, ceramic or rubber.
Conveyor industry resources for engineers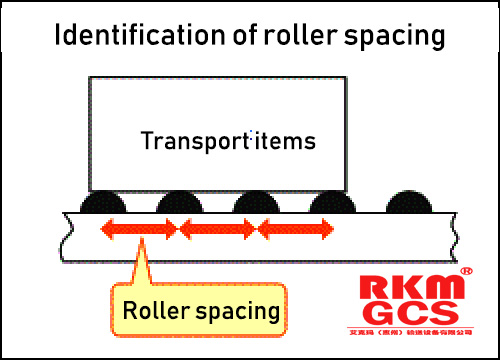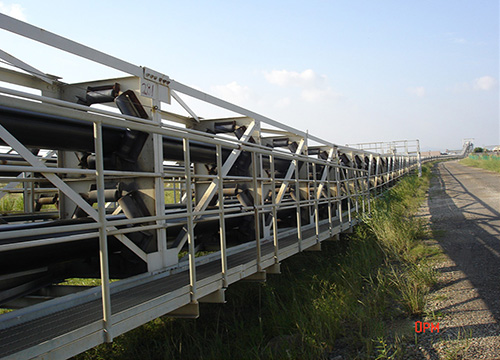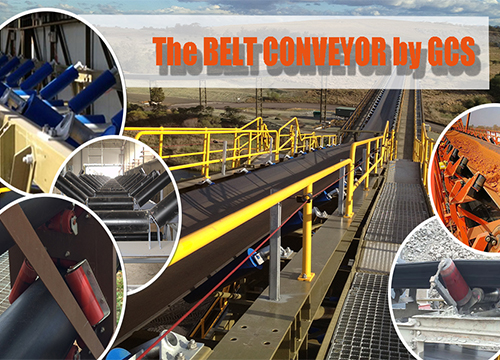 Structural Design and Criterion of Roller Conveyor
The roller conveyor is suitable for conveying all kinds of boxes, bags, pallets, etc. Bulk materials, small items, or irregular items need to be transported on pallets or in turnover boxes.
Pipe belt conveyor and application scenarios
The pipe conveyor has a wide range of applications. It can transport materials vertically, horizontally, and obliquely in all directions. And the lifting height is high, the conveying length is long, the energy consumption is low, and the space is small.
GCS belt conveyor types and application principle
Common belt conveyor structure in various forms, climbing belt machine, tilt belt machine, slotted belt machine, flat belt machine, turning belt machine and other forms.
Contact us for information on idler roller dimensions,conveyor idler specifications, conveyor idlerscatalogue and price.
---
---
Write your message here and send it to us