Hot Selling Friction Self Aligning Roller From GCS China Manufacturer
Product Detail
FAQ
Company Info
HOT SALE
Product Tags
At present, the more commonly used aligning idlers mainly include friction aligning idlers, conical aligning idlers, and strong aligning idlers. The center line of the idler and the center line of the conveyor belt is straight, the center line of the idler and the center line of the conveyor belt are not straight, and the 3 grooved rollers and 2 small vertical rollers are installed on the upper crossbeam, and the lower crossbeam is connected to the middle frame. The upper and lower beams are connected together by the reverse axis, and when the conveyor belt is misaligned, the upper beam is driven to rotate around the reverse axis to a certain viewpoint, at this time, the aligning idler applies lateral thrust F to the conveyor belt, which promotes the conveyor belt after misalignment to automatically return to its original position, complete the automatic correction of the misaligned conveyor belt, and ensure the centering operation of the conveyor belt.
It is characterized by the addition of 2 gear offset rollers on the basis of forward tilt alignment, which can directly obstruct and restrain the conveyor belt misalignment in the case of serious misalignment, promote the alignment of the conveyor belt, and make the aligning effect better.
GCS conveyor pipe roller manufacturers can supply all kinds of rollers you want. Please feel free to contact us.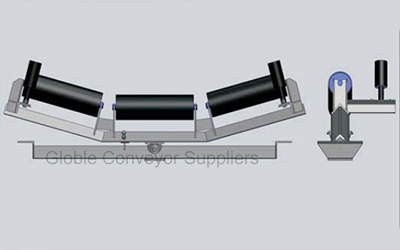 GCS reserves the right to change dimensions and critical data at any time without any notice. Customers must ensure that they receive certified drawings from GCS prior to finalizing design details.
---
---
1.What is friction roller conveyor?
The friction roller conveyor with adjustable friction, which can prevent the belt from running away.
2.What is a return roller in a conveyor?
Return Rollers are typically installed on the underside of a conveyor to provide support to the returning conveyor belt.
3.What are the advantages of roller conveyor?
Roller conveyor can improve transport efficiency, get twice the result with half the effort. For more details, please refer to: Why choose roller conveyor?
Write your message here and send it to us