Cone Self Aligning Roller Group from China GCS Manufacturer
Product Detail
FAQ
Company Info
HOT SALE
Contact now
Product Tags
GCS Conveyor Supplies is a manufacturer of trough rollers, and frames.
Our factory can do it all for bulk material companies, making it simple for everyone to design and order custom rollers and affordable matching roller frames online. We are here to consider all your concerns and produce the right trough roller for your product.
But if you want customized rollers and frames for any conveyor, we'll arrange it for you and our team will help you develop a unique and eye-catching design.
The V-roller with tapered rollers
are the ultimate in tracking performance in terms of load carrying, keeping the belt in a better working position. The lower V-roller set is a type of roller that generally consists of two tapered rollers, generally at 30 degrees.
Tapered rollers with extremely high wear resistance, very low coefficient of friction, and are less likely to wear the belt.
Excellent self-lubrication, no oil injection, not easy to jam in harsh conditions of use generally used in the detachable belt conveyor above. They are used in the open air, and in dusty and corrosive environments, such as cement plants, salt plants, and fertilizer works.
Trough carrier rolls are available in Equal Troughing | Channel Mount
Low Profile | Self-Aligner | Off-Center Roll | Impact carrier
The trough roller set has the physicochemical properties of high wear resistance, and low coefficient of friction and is less likely to wear the belt. It also has good self-lubrication, is not easy to jam under harsh conditions, and is anti-static, flame retardant, aging-resistant, and corrosion-resistant. It can withstand repeated shocks and vibrations, has excellent mechanical properties, is light in weight, easy to install, maintenance-free, has low noise (3-7DB), and runs smoothly. The operating temperature can be maintained from -40°C to -85°C.
The rollers are widely used in mining and other docks former quay transport places where dust is high and the environment is corrosive.
Get quality conveyor rollers, custom conveyor rollers,  matching roller frames, and more of what you need.
Choose your type
Cone self-aligning roller - SERIES LS/RS
labyrinth seal aligning cone shape conveyor roller carbon steel taper roller by GCS
BW

type

RollerDiameter

Tube length

Material

B1400

Cone aligning roller






108/194

780

Q235

B1600

108/194

900

Q235

B1400

108/194

780

Q235

B1400

108/178

530

Q235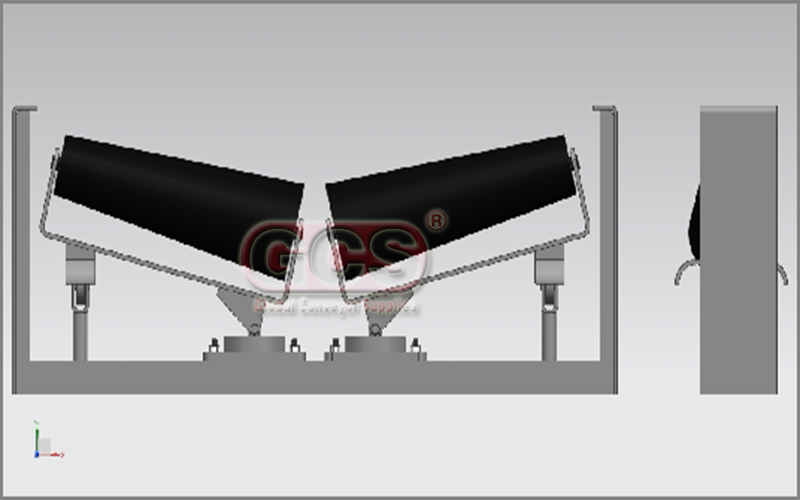 GCS manufactures various products including different types of conveyor rollers, impact rollers, belt /spiral roller/cleaners for both light and heavy-duty use in the chemical industry together with various molds, fabrications, and metal stamping products, press bearings, universal balls, foot cups, and accessories. GCS conveyor rollers suppliers support customized production, we accept ODM OEM. 
Conveyor belt rollers, which are manufactured by the guidelines for cessation GB10595-89 (belt conveyor specification), issued by The People's Republic of China, can be designed to suit the customers' specific requirements. In addition, they can be manufactured to conform to the national and regional standards of Japan, Australia, and other countries.
Standard widths for conveyor belts are 500mm, 650mm, 880mm, 1000mm, 1200mm, 1400mm, 1600mm, 1800mm, 2200mm, 2400mm, etc.
(all included with the standard roller table).
Rollers over 1400mm can be manufactured by customers' specifications.
Diameters (mm) of the rollers for heavy-duty use are 63.5, 76, 89, 102, 108, 114, 127, 133, 140, 152, 159,165and 194, etc.
Diameters (mm) of the reels for both the chemical industry and light dury use are 25, 28.38.42.48.50.57.6.63.5.70.76.80and89. Lengths will be tailored exactly 10 to meet customers' requirements.
| | |
| --- | --- |
| Production Name | Belt conveyor roller bracket |
| Belt Width | 450 500 600 650 750 800 900 1000 1050 1200 1350 1400 1500 1800 2000 2400 mm |
| Materials | Q235 carbon steel, stainless steel |
| Type | DTII, TD75, aligning |
| Degree | Customized, like 10 20 30 35 45 10±5 20±5 |
| Welding | Automatic welding |
| Surface | Electrostatic spray painting galvanized |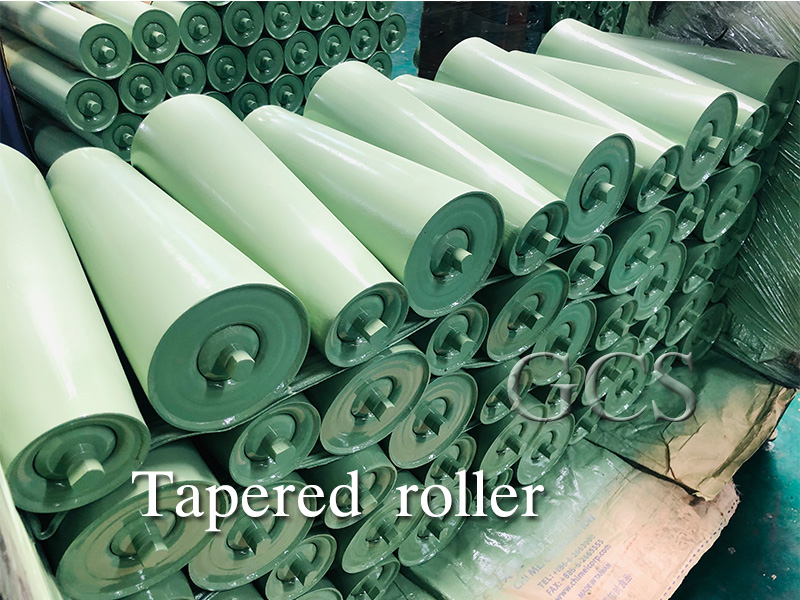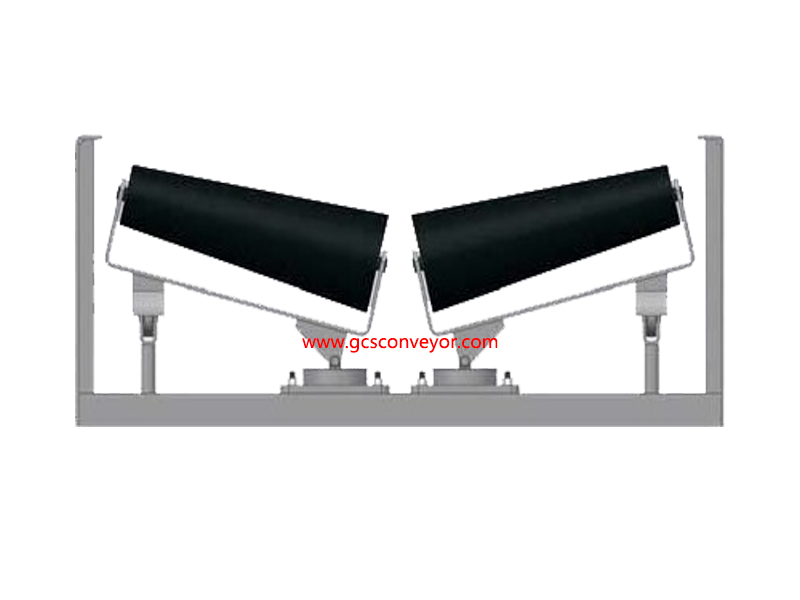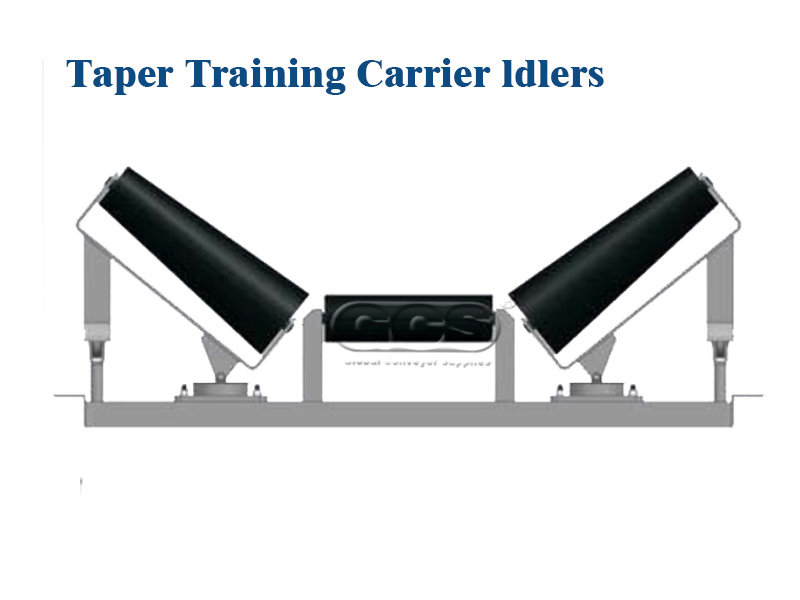 GCS has them in stock with standard diameters of 76mm,89mm,102mm, 114mm, 127mm, 152mm and 178mm,193mm. GCS can also design and manufacture rollers to customers' specifications where non-standard rollers are required and ship worldwide.
GCS reserves the right to change dimensions and critical data at any time without any notice. Customers must ensure that they receive certified drawings from GCS prior to finalizing design details.
---
---
1.What is self aligning roller bearing?
Self aligning roller bearing has two rows of balls with common spherical raceways in the outer ring. This feature endows them with the self aligning properties and permits them to work properly even with a slight misalignment of shaft relative to the housing.
2.Are tapered roller bearings self aligning?
Tapered roller bearings also have static misalignment limitations however, in some applications the bearing housings can be designed so the bearing can self align properly. One of the other disadvantages is with speed limitations.
3.What is conveyor and its type?
Common types are belt, roller, motorized roller and overhead conveyors.
Write your message here and send it to us